What is Alert in AirDroid Business?
The Alert feature in the Admin Console Dashboard is a way for you to set custom triggers and receive email notifications when your Android devices show abnormal activities such as network traffic, internet connection, excessive data usage, low battery, and more.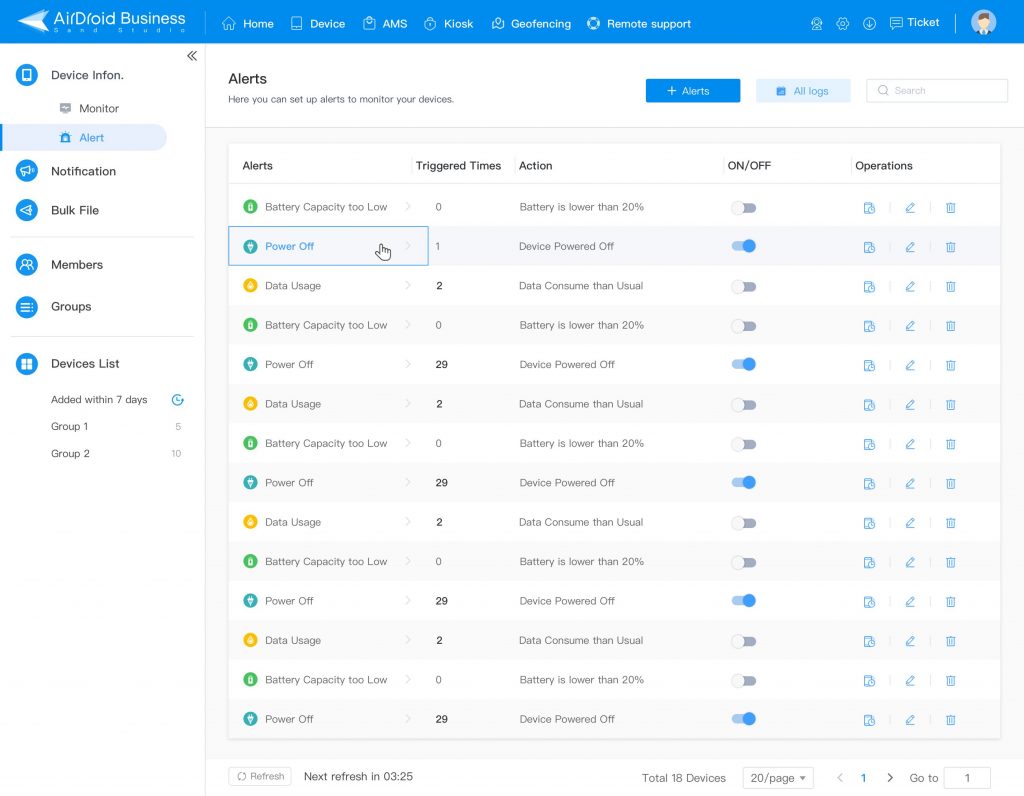 Why do I need an Android alerting system and what are the benefits?
After setting up the alerts and notifications for your Android devices, you won't need to stay in front of the screen and try to manually monitor your Android deployment all day. The benefits of having alerts notifications enable organizations to:
Free up more human resources
Receive timely awareness of critical activities and be able to respond to unexpected issues right away
Reduce business-critical device downtime and prevent risks from getting out of control
What types of alerts are there?
AirDroid Business offers more than 10 customized triggers for setting up your Android alert notifications. They include:
Cellular and Wi-Fi data usage
App cellular data usage
Application status
Device online/offline status
Battery capacity and temperature
Storage capacity
Device motion and movement
Biz Daemon permission status
Kiosk Mode status
Screen lock status
External HDMI status
Android Alert Use cases & recommendations
Logistics & Transportation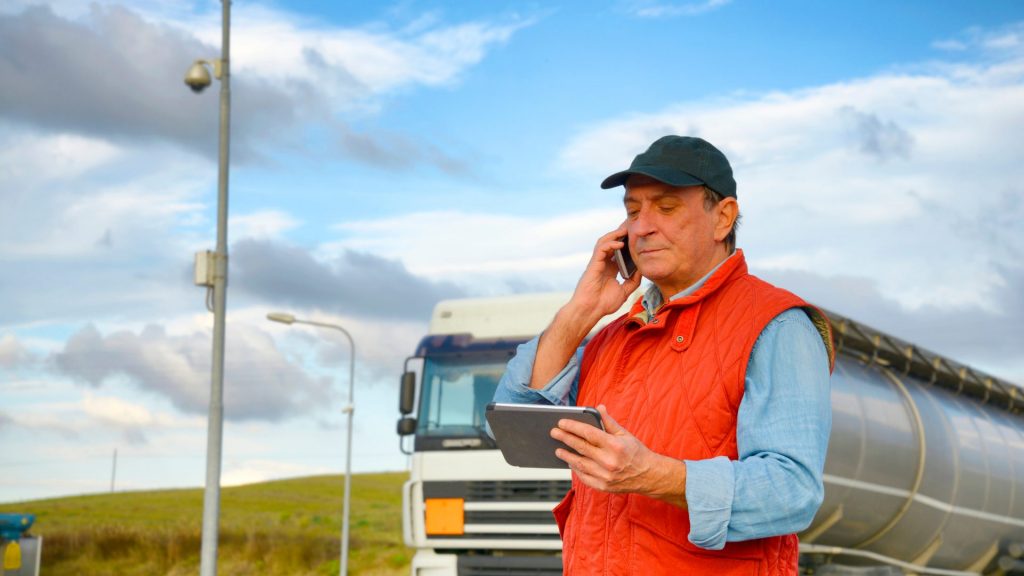 Recommended alerts:
Cellular data usage
Network signal strength
Online/offline status
Battery capacity
Device motion
For many transportation and logistics companies, the ability to monitor and track drivers' status (using various mediums) is crucial for multiple reasons. Many companies hand out mobile devices to their drivers along with a data-roaming plan when the routes are inter-continental or cross-regions. Drivers need to access the Internet to upload or change delivery information, but they also have some free time to go on the Internet. The ability to monitor data usage and get notified when it reaches the threshold can help companies save a lot of costs and overcharge especially when there's a fleet of drivers out there every day.
There are also other alerts that can help with tracking drivers. Alerts can be set up when devices go offline when they aren't supposed to; battery capacity can be monitored so the devices don't easily go offline when the drivers are focusing on work when the batteries are running low.
Finally, a device motion alert help with identifying abnormal activities when devices haven't been moving for a period of time. Managers can quickly check up on the drivers to see if there's been an accident that caused the driver to stop longer than expected.
Learn more about MDM solution for Logistics and Transportation
Digital Signage

Recommended alerts:
Kiosk Mode status
Device online/offline status
External HDMI status
Storage capacity
Battery temperature
For digital signages, the number one priority is to know when a device isn't displaying contents correctly or not operating at all due to hardware/software malfunctions. AirDroid Business has many alert triggers that are designed for use cases like this.
The online/offline status and external HDMI status alerts both can help your company monitor when any of the signage devices aren't displaying contents properly. When a signage device is online but the external HDMI status is off, this could mean that the HDMI cable isn't properly plugged in, and a simple phone call to the nearby store or personnel can quickly get the device back up.
There are also other factors that could render the signage devices malfunction or even shut down. Alerts like storage capacity and battery temperature are both ways to give you heads-up before the devices are forced to shut down due to high temperature.
Finally, many of our customers are running their signage or self-serve devices on an Android platform, but lack the ability to lock down the devices to prevent misuse or intentional sabotaging. By enabling Kiosk Mode on these devices, you can limit user access to apps, websites, or system settings. Not only can you protect the devices from being tampered with, but you can also make sure that the interface and services are easy to use and won't cause confusion for the users. With the Kiosk Mode alert status, you can get notifications when a device exits Kiosk Mode.
Learn more about MDM solution for digital signage
IT & Managed Services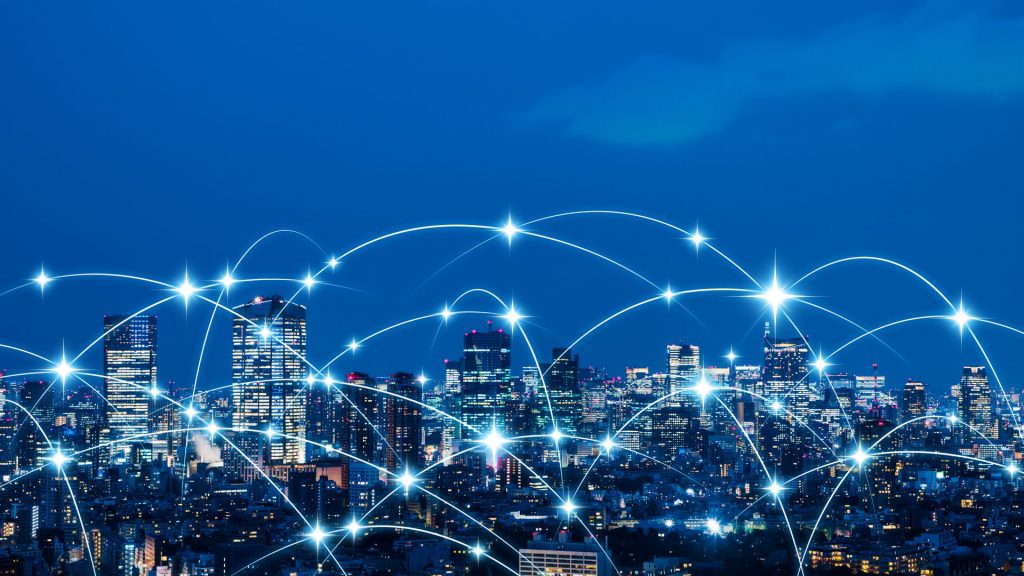 The IT & Managed Services industry is one that could use any of the alerts, as all of them are geared towards letting you know when a device is down or about to shut down.
Device uptime – IT managers can use alerts like device online/offline status and battery temperature to determine if any of the devices are in danger of shutting down or have already shut down.
Data usage – the cellular data usage alert can notify IT managers when any of the devices is approaching the data limit threshold.
Storage capacity – it's very easy to forget to clean up your devices' storage when they are out in the field for years. Clogged-up storage space becomes an issue when you need to push a new security or feature update or an important company document only to find out that it's full. Setting alerts on storage capacity could serve as a reminder to examine the storage situation on your devices.
Learn more about MDM solution for IT & MSPs