AirDroid has just been updated to version 3.2.2. This release brings a new feature called Record Screen, as well as improves battery efficiency, and adds video backup support to the Backup feature.
Record on your phone screen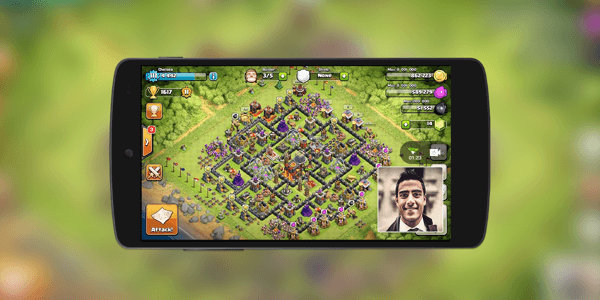 While building your empire on the phone and want to share the spectacular scene with the world? AirDroid is the easiest app to use to help you record on- screen activities and, if you prefer, along with your voice and face!
It's easy to get started. Just open AirDroid on your phone, tap the Record Screen button on the home screen, and then tap the video recorder icon. After a three-second countdown, AirDroid will start recording the phone screen and audio.
By default, the phone screen and audio are recorded. You can also configure whether to record phone audio and front camera in [settings].
Note: You will have to agree to "access the device's microphone(s)" for the best Record Screen experience. As AirDroid ensures we have the highest standard when it comes to safety and privacy, the app will not trigger the microphone unless you are recording the phone screen and the Record audio option is turned on.
Battery efficiency improvement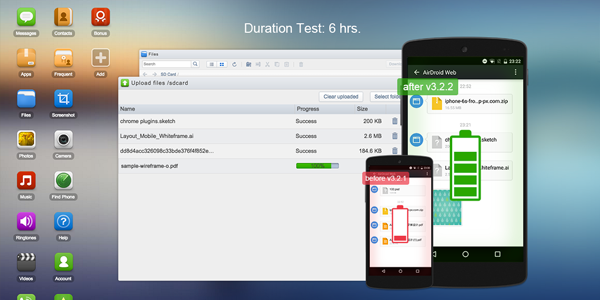 Last month, we noticed some users were talking about battery consumption. Your voice is heard! With immediate reaction, our team has put into action to optimise the battery consumption in this update and the result is amazing – based on our A/B test, we've observed up to 65% increase in battery efficiency with a duration test of six hours!
Backup videos (Premium)
The positive feedback and praise we received regarding the Backup (photo) feature we introduced at the end of March exceeded our expectation. To further improve the feature, we have now enhanced it with video backup support.
With the video backup support, you can now backup all the videos on your phone to your computer on the same network.
Note: This is a  feature exclusively for our Premium users and requires AirDroid desktop client v3.3.2 which is to be released in the following days. You can learn more about AirDroid Premium here: https://www.airdroid.com/en/pay/.
We hope you enjoy the latest version of AirDroid and, as always, any feedback to our new version is welcome. You can leave a comment below or contact us via support@airdroid.com. We are here to delight your multiscreen life!