If you are an iOS/macOS user, you may enjoy using the AirDrop feature to transfer files between nearby iOS devices. It's super fast and easy!
But for an Android user, is there a similar way or tool to sharing files with other Android devices or even iOS devices, just like AirDrop? The Answer is Yes — That's AirDroid Nearby Feature.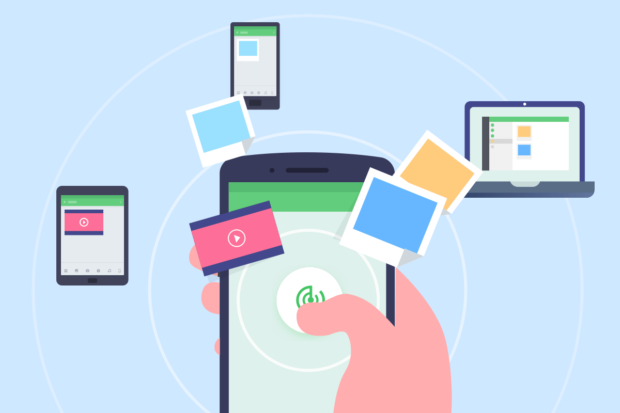 AirDroid Nearby is an awesome feature to help you share files with your colleagues/classmates/friends or family. Just need one tap, you will discover nearby devices that use AirDroid on the same network, then you can chat and share files with them, it's a good assistant in group-working.
What if there is no internet to be connected or those devices connect to a different network? Does the nearby feature still work? It's impossible in the past, but with AirDroid v4.2.5.0 release, the barrier not there anymore. By using AirDroid latest version, you can discover other devices near to you even without connecting to the Internet. In other words, you can discover other devices whatever these devices connected to the same wifi or not, even they connect to a mobile network. Then you can establish a direct connection with other devices and transfer files like AirDrop, super fast and easy!
What's more, the AirDroid Nearby feature is more powerful than AirDrop. It does not only work on the same platform but available across platforms, this means you can share files between Android/iOS/Win/Mac.
How to use Nearby Feature to discover devices and transfer files?
Download the latest AirDroid Version on your Android devices or iPhone/iPad.

Go Nearby and tap Search to discover other devices

Tap a device to establish a direct connection

Chat and share files as you like
For more details, check out our FAQ in our knowledge base.