AirDroid Business is proud to announce the addition of their Application Management Services (AMS) feature to their mobile device management platform. The AirDroid Business AMS feature is a suite of tools that enables users to build and release custom applications, and provide updates and maintenance to remote devices in the network.
AirDroid Business' AMS gives users full control, providing the ability to decide the scope of their application release by appointing targeted device types and groups for the applications to be published to. Control and customization is taken to the next level, with the AMS interface allowing administrators to create custom icons and appoint a name for their applications.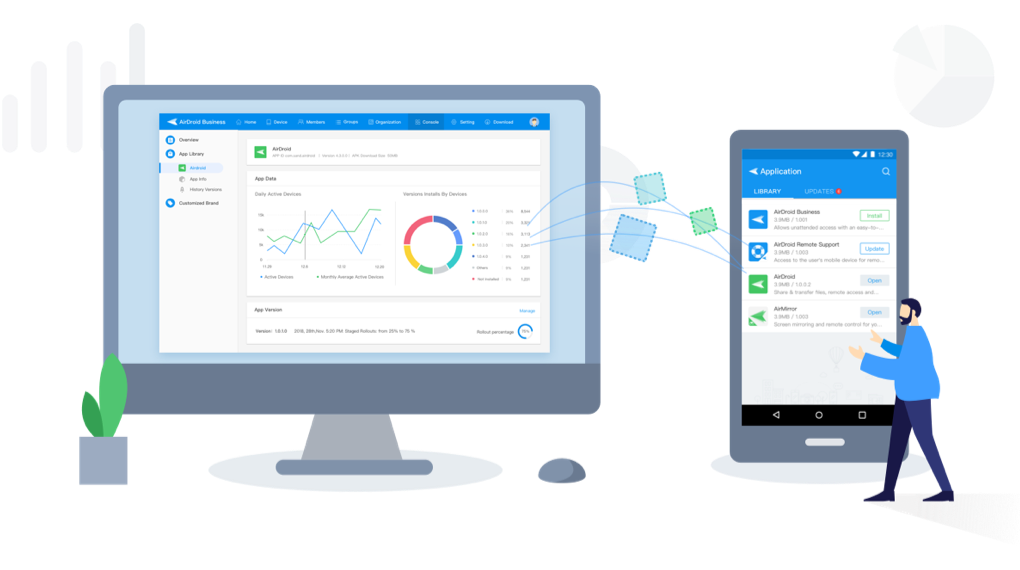 Application Management Services Features:
Create and Update Applications
The AirDroid Business AMS feature enables users to create and update their own custom applications, upload an installation package (APK), write an introduction, upload screenshots and set up the publication of applications.
Staged Rollouts
To enable the testing of new app releases for bugs, the AirDroid Business AMS feature enables users to undertake staged rollouts. Application releases or updates can be defined by percentage, countries/areas, device information, or device groups.
Application Release On Demand
The AirDroid Business AMS feature enables applications to be released on demand to select devices or users. This enables administrators to release applications that are specific and relevant to the user, and can be released by group or device type.
Forced Installation
In the case of serious application errors or bugs, the AirDroid Business AMS feature enables administrators to provide instant and mandatory updates via forced installation. This feature is especially useful for unmanned devices, removing the need for technician visits to implement updates and downloads.
Scheduled Release
Few things are more frustrating than having to stop what you're doing to install app updates. Using the Scheduled Release feature, AirDroid Business administrators are able to flexibly schedule and deploy application updates for times when users will be impacted least.
Customized Branding
The AirDroid Business AMS feature enables users to fully customize their applications for brand cohesiveness. Administrators are able to use AMS to customize the name, icon, launching page, and the images on the user interface.
For more information, pricing, and a full list of AirDroid Business features, please visit www.airdroid.com/business