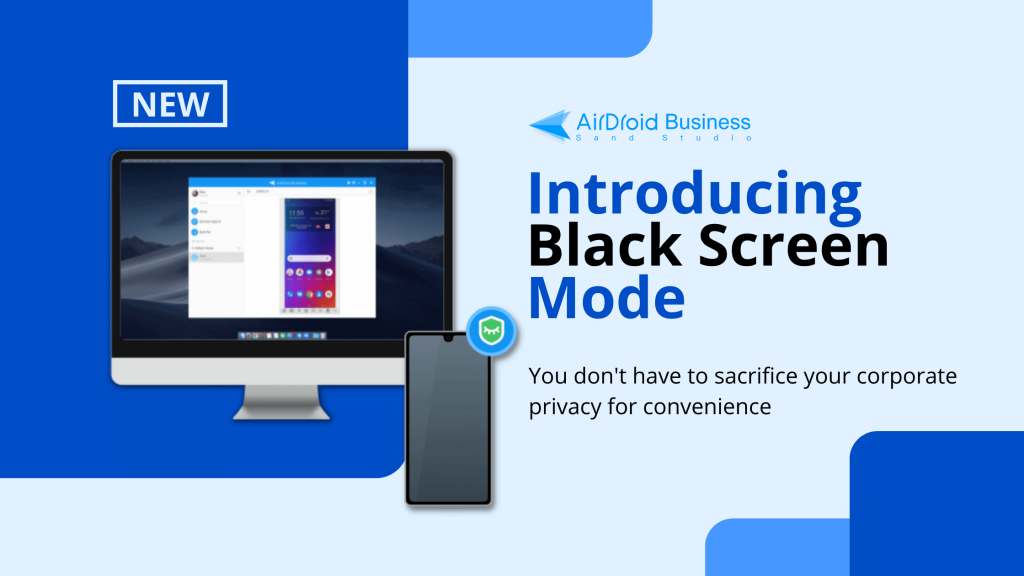 We've just rolled out a new view mode in our Remote Control feature for an even more secure mobile device management experience for businesses.
What is AirDroid Business Black Screen Mode?
The new Black Screen mode in AirDroid Business Remote Control feature allows IT admins to hide the remote screen during a remote control session. When the mode is turned on, the screen on the controlled device will be darkened with a maintenance message displayed on top so end-users or passersby are aware that the device is currently under maintenance without actually seeing what's happening on the device. This way, your IT operations and sensitive data can remain private to you and your company only.
You may have seen this mode used in troubleshooting desktop devices before. However, due to the pandemic and the ever-evolving nature of mobile technologies, more and more companies today are adopting mobile technology to boost productivity and streamline business operations.
Now you might be wondering: "why would I need a feature like this for my company?" The answer is straightforward — to ensure an even more secure remote management solution for not only the devices but also your corporate privacy.
Who can use Black Screen mode?
AirDroid Business Black Screen mode is available to Standard (previously called Ultimate) and Enterprise users. This new view mode is suitable for all business operators and IT administrators who often need to remotely access and control devices and wish not to have their remote operations be seen by unauthorized users or others. Some examples are performing remote troubleshooting, reconfiguring device applications and/or settings, and more. Company-owned devices usually contain sensitive information that requires authorized user access and some components should only be visible to IT operators in order to prevent malicious security risks.
💡 How to enable Black Screen Mode in AirDroid Business? Proceed to this help article for a complete step-by-step tutorial: [Guide] How to use Black Screen Mode to lock the remote device during Remote Control?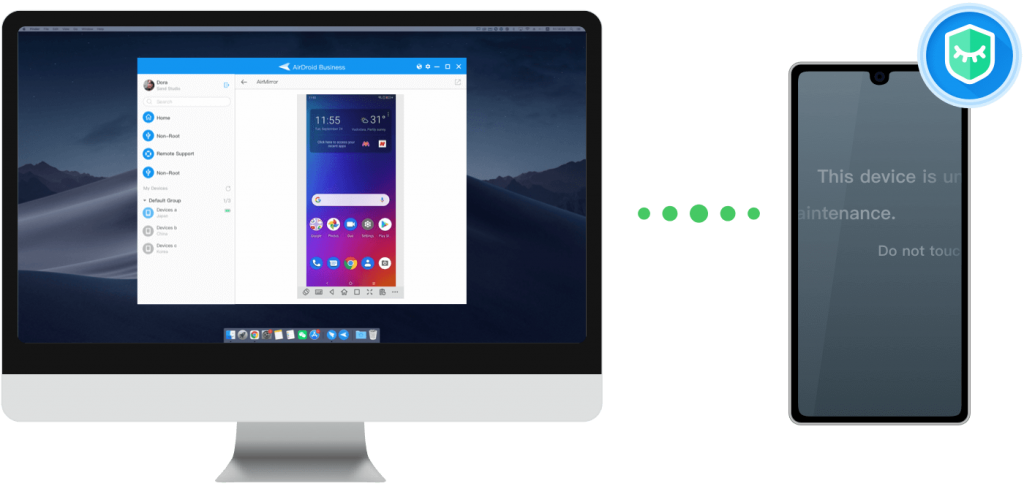 What are the benefits and use cases of using Black Screen Mode for business?
The Black Screen mode is a piece of privacy protection that gives IT administrators the ability to hide the connected device's screen during a remote session. This is very useful when needing to maintain unattended or customer-facing devices that are out in public. Turning on the Black Screen will prevent confidential work and data from being visible on the client's device and avoid causing any negative impact on customers' experience.
Here are four benefits of enabling Black Screen mode during remote sessions: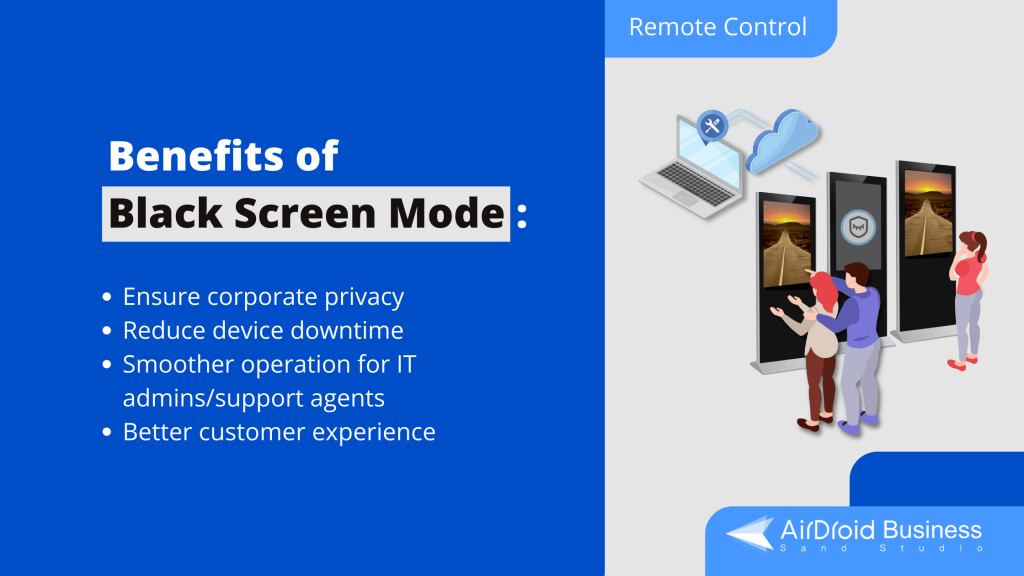 • Benefit 1. Protect your corporate privacy
IT admins or support agents can enable the Black Screen mode when accessing company data or entering passcode remotely in view of customers. This ensures that no unauthorized users are able to see any private information or try to sneak into the company's internal system. It can also be applied to attended devices that are provided to the employees. For example, truck drivers often carry a tablet that is used for running work and navigation apps. When certain restrictions got unexpectedly reset, IT admins can remotely connect to the device to reconfigure the settings without letting the drivers know how to do it for policy compliance purposes.
• Benefit 2. Reduce device downtime
Despite the convenience of remote access and control, there may be times when such an operation isn't appropriate to perform right away. For example, when a self-checkout kiosk at a restaurant is down, you may not want your troubleshooting activities displayed on the remote screen for customers to see, which may cause a bad customer experience. By disabling the screen of the kiosk, it allows support technicians to fix device issues right away without having to wait until customers are gone.
• Benefit 3. Smoother operation for IT admins/support agents
Making the remote device's screen Black during troubleshooting allows customers or end-users to know that the device is currently out of service and will not proceed to use the device. Doing so allows your IT operators and admins to complete their tasks faster and smoother without any interruptions or having unwanted input from others.
• Benefit 4. Better customer experience
All of these above benefits lead to providing an overall better experience for customers. When customers see a device screen that is blackened and unresponsive, it is intuitive for them to know that the device is currently down or undergoing maintenance, and thus, would avoid using it. This prevents customers from getting frustrated if they find out the device was broken after many attempts. Moreover, reducing device downtime will also allow businesses to improve customers' buying experience by potentially decreasing their wait time.
Customer's Use-Cases for Black Screen Mode
Let's see how AirDroid Business Black Screen Mode can be applied in real-life scenarios that our users have shared with us:
Scenario 1: Troubleshooting unattended device
For unattended devices out in public like digital signages and interactive kiosks, what happens if a device is suddenly down or isn't displaying the correct content during high traffic hours?
It would have been inappropriate to start troubleshooting in front of everyone. Usually, when this happens, IT support agents would wait till the crowd dies down to start troubleshooting the device to avoid causing a bad customer experience. But with the Black Screen mode available during remote troubleshooting, this will allow IT admins to hide the signage screen on the client end so your remote operations will not be displayed on the big screen and to the public.
Scenario 2: Inputting sensitive data during a support session
When providing remote IT support to your clients, there are moments when you'll need to insert a passcode to get access to the internal system or perform certain tasks to reconfigure the settings. In these cases, you will not want those activities to be seen by unauthorized users for privacy purposes, nor have the risks of unexpected system or data breaches. What would you do then?
This is when the Black Screen mode comes in handy to secure your corporate privacy by hiding the content of the remote screen with a black overlay. End-users will no longer be able to see your confidential activities on the remote device. Additionally, this could help to prevent end-users from continuing to use the device and potentially further tampering with the device when troubleshooting.
Both of the above cases are great examples of when to enable Black Screen mode on remote devices. With the new Black Screen mode, businesses are able to maintain corporate privacy when performing a remote session on a device outside the company while minimizing device downtime and customer frustrations.
Takeaway
AirDroid Business MDM now offers Black Screen mode in the Remote Control feature to make mobile device management even safer – a feature designed with corporate privacy in mind. This new feature is crucially beneficial to businesses who will need to remotely access and control an unattended and/or customer-facing device. Most of these remote operations that have to do with a company's backend system should be kept strictly confidential from unauthorized users or customers. Having Black Screen mode enabled can protect your company's privacy while allowing your IT operators a smooth remote control and troubleshooting in a secure manner.
Sounds like something you'll need for your business? Apply for a 14-day free trial and start remote managing your Android devices with AirDroid Business MDM today!