The feedback received from users of AirDroid's remote camera and screen mirroring features have been overwhelming. Users are able to use the camera on the Android-based phones as a surveillance camera at home, monitoring any activities remotely such as if a baby is crying or whether a pet is behaving well. AirDroid can also be used as a parental control software with capabilities of monitoring the contents viewed by children on their phones as well as their real-time locations.
When the remote camera and screen mirroring is broadly used by our users, many have raised concerns about not being able to have their eyes on the screen constantly and some important captures would be missed. For instance, when a baby cries or any abnormal movements occur in the house. Although some may keep their eyes on it frequently enough, lack of sound would be a concern for surveillance purposes.
For the above reasons, we are announcing an updated version that brings the capability of listening to the environment in real-time while using remote camera or screen mirroring. This allows users to have full control of the safety of their families and properties.
How to enable one-way audio:
This new feature can be used on all AirDroid-supported controlling devices. The control devices may be AirMirror app or web.airdroid.com. The Win/Mac will be supported soon.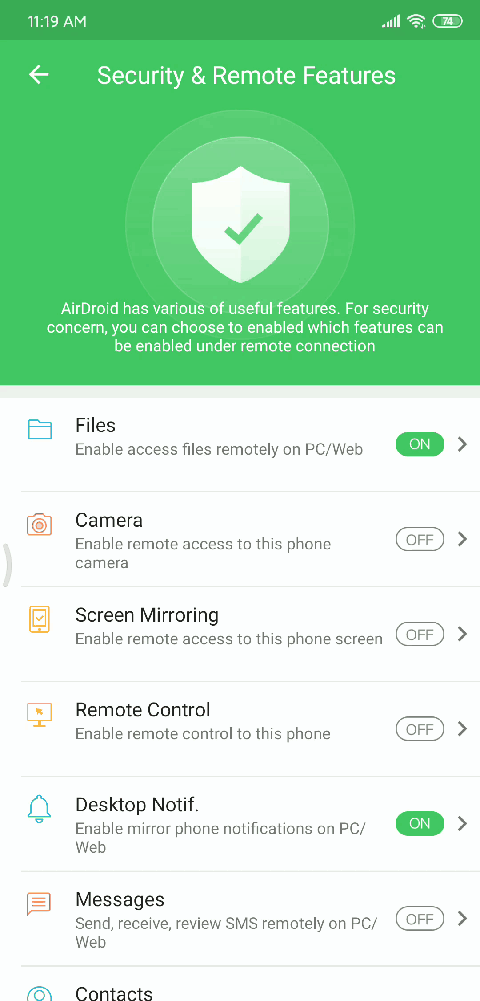 Since background listening requires access for the microphone on the controlled devices, before using, the permission should be granted on the controlled devices first. When done, please click the "EAR" icon in Remote Camera or Screen Mirroring, background listening should be activated.
Note: The background listening feature is offered for free in a LAN environment. If you need to use via the Internet, you will need to upgrade to Premium.